Software
Airfoil Analysis
3D Wing Analysis
Euler/Navier-Stokes
Education/Combo
Follow Us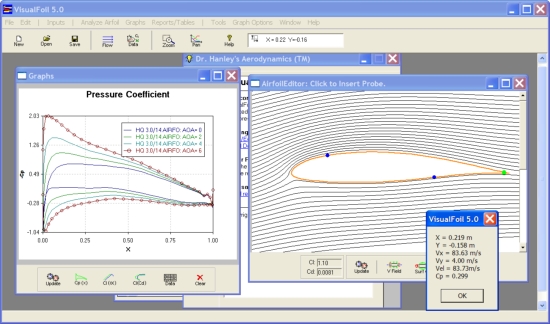 ---
Buy Full Version ($189 $49) | Buy NACA Version ($29). The sale ends on Wednesday, September 17, 2014.
---
Overview
VisualFoil 5.0 is a modern easy-to-use airfoil analysis and design software for Windows XP, Vista & 7. The NACA Version is suitable for most users who need to analyze and obtain data for NACA airfoil shapes. Expert users can analyze and test the performance of their custom designs with the Full version of VisualFoil 5.
VisualFoil can quickly and inexpensively determine the best cross section shapes for wings, spoilers, struts, hydrofoils, keels, rudders and other aerodynamic and support structures.
Feature of VisualFoil 5 Include:
Incompressible flow solver using vortex panel method coupled with boundary layer solver for computing lift, drag and moment coefficients.
Built-in library of NACA 4, 5 & 6-digit airfoils
Custom airfoil analysis and modification. VisualFoil reads in a text file with the airfoil coordinates and then finds the aerodynamics coefficients.
Custom airfoil editor with .DXF file input. Software reads in line and arc entities and then finds the aerodynamic coefficients of the custom airfoil.
Computes and graphs Cl, Cd & Cm versus angle of attack.
Stall model to predict the maximum lift coefficient and angle of attack for maximum lift.
Built-in graphs
Built-in tables
Export tables to .csv files
Export airfoil to .dxf files
Airfoil plotting
Note: The NACA version of VisualFoil 5.0 does not read-in custom airfoils & .DXF files. It will analyze and modify NACA 4, 5 & 6-digit airfoils and generate lift, drag and moment coefficients. It can export and plot these airfoil shapes.
Flow Solver
Linear strength vortex panel method
Coupled boundary layer solver to compute profile drag.
Lift, drag & moment coefficient calculations.
Prediction of transition & separation points to demonstrate the validity of your calculations.
Stall & maximum lift prediction
Surface graphs of pressure coefficient & velocity ratio for clear explanations of the boundary layer behavior.
Beautiful color contour graphs of the pressure coefficient for your reports and presentations.
Custom graphs of Cl, Cd & Cm versus angle of attack that you can use in your homework assignments and final reports
Multiple graphs of Cl vs Cd for explanining why you picked one airfoil over the other.
Screen Shots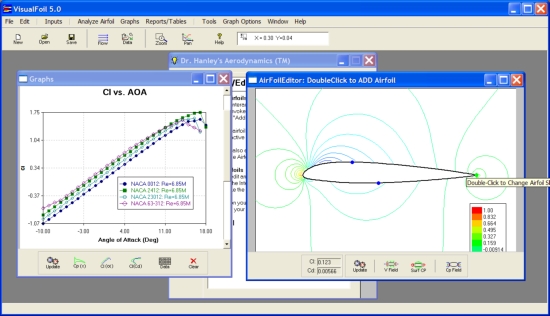 VisualFoil can predict profile drag and stall.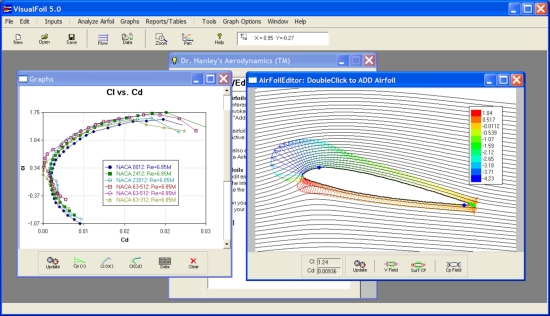 Compare the performance of many airfoils on a single graph.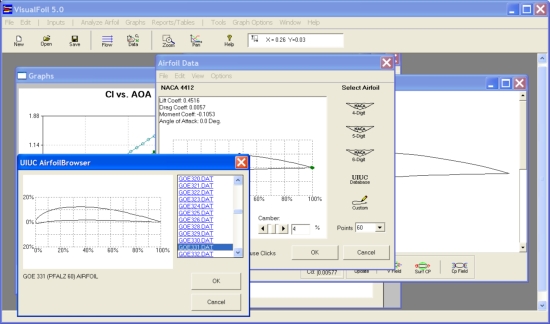 VisualFoil has an extensive library of airfoils.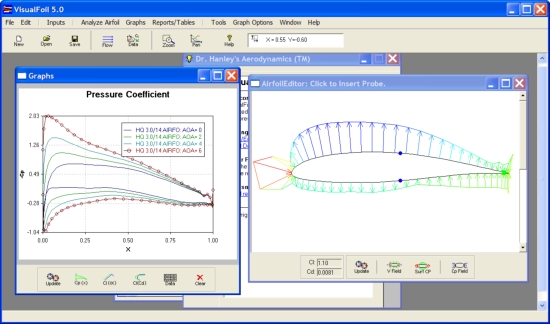 VisualFoil graphs Cp at various Angles of Attack.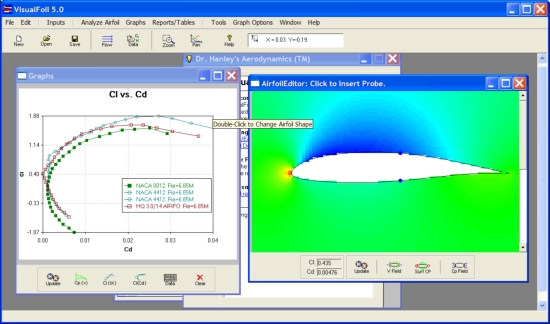 VisualFoil is an excellent educational tool for K-12 & beyond.
Purchase
The price of VisualFoil 5.0 is $189 US. The NACA version (only NACA 4, 5 & 6-digit airfoils) is $69. Please use the link below to purchase the software.

Purchase
The price of VisualFoil 5.0 is $189 US. The NACA version (only NACA 4, 5 & 6-digit airfoils) is $69. Please use the link below to purchase the software.

Sale ends on Wednesday, September 17, 2014.

Computer System Requirements
VisualFoil 5.0 is a stand-alone airfoil analysis and design software package that requires Windows XP, Vista, Version 7 or 8.

Request More Information:
For more information, please email us at sales@hanleyinnovations.com.

See Also:
MultiElement Airfoils, MultiSurface Aerodynamics, VisualFoil Plus
| | |
| --- | --- |
| Copyright © Hanley Innovations 1996-2014 | |