With
Stallion 3D
, it does not take forever to find out facts about your project. Conceptual aerodynamics analysis is no longer limted to simple geometries and simple flowfields. This means that students can complete an interesting assigment
within a week
. Semester projects can be researched in a realistic learning scenario. Designers and engieers can know the workings of a concept before moving forward to the next stage.

Analysis of business jet on OpenVSP Hangar. Number of cells around 500,000
for conceptual analysis. Mach Number is 1.5 with Euler code. Image shows surface velocity.
Stallion 3D makes three-dimensional aerodynamics analysis and design automatic and straightforward for users who are not specialists in computational fluid dynamics (CFD). It features built-in design tools, .stl geometry import, automatic grid generation of complex surfaces and built-in graphics.

Analysis of car (file from turbosquid.com) on laptop computer.
Stallion 3D solves the compressible Euler and Navier-Stokes to analyze external aerodynamics problems for both low and high speed flows around any arbitrary 3D CAD geometry.

Analysis of Onera M6 wing from OpenVSP Hangar. Number of cells is around 500,000
for conceptual analysis. Mach Number is 0.84 with an angle of attack of 3.06 degrees. Image shows surface pressure.
Stallion 3D transforms the personal computer into a digital wind tunnel that enables engineers to perform experiments on their designs and quickly develop working prototypes.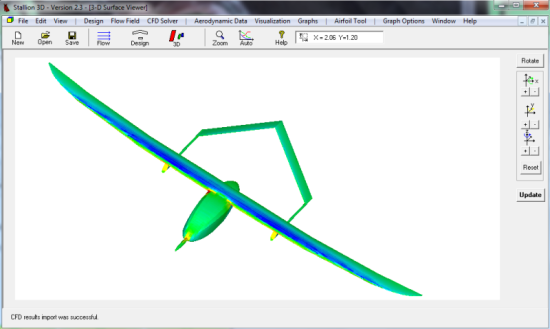 Analysis of the Aerosonde UAV from OpenVSP Hangar. The flow is low speed air. Image shows surface pressure.
Stallion 3D features
Fast Case Setup (Less than One Minute)
.
Step 1: Import the CAD geometry in .stl format
In this step, you can rotate or scale the geometry to match your inputs.
Step 2: Size the Simulation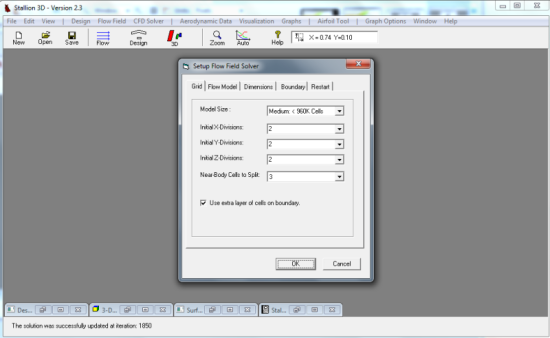 Step 3: Enter the flow speed and angle of attack.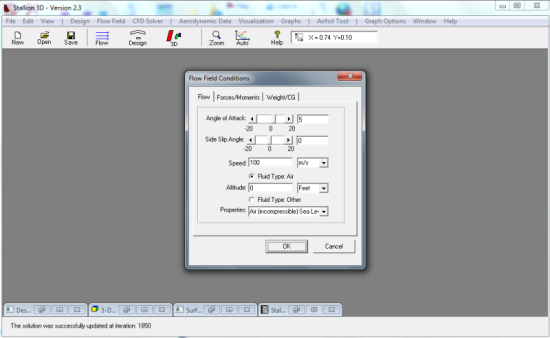 Step 4: Click the menu to generate the grid and solve the flow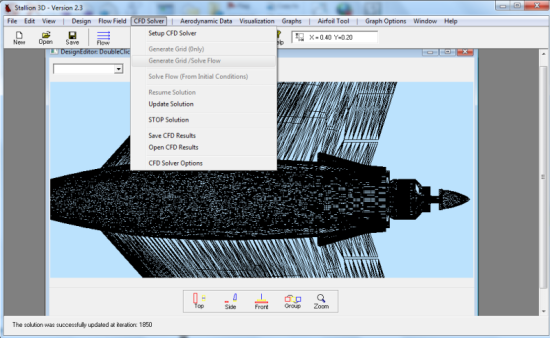 Step 5: View the results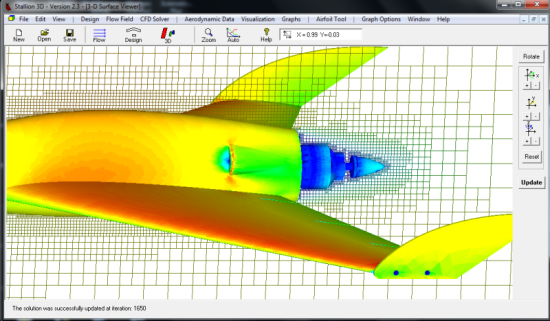 Stallion 3D solves the 3-D Euler or Navier-Stokes equations using an automatically generated cartesian grid. The grid detects the immersed boundaries and provides accurate solution without user intervention.
Features of Stallion 3D include:
3-dimensional compressible Euler & Navier-Stokes equations using a finite-volume solver
1st and 2nd order flux vector splitting
4-stage Runge-Kutta time marching scheme using local time steps
Automatic cartesian grid generation for arbitrary multiple body placement.
Low and high speed solutions
Plots of pressure, Mach number, temperature & total pressure
Surface plots of Cp, Mach number, velocity ratio & temperature
Computation of overall lift, drag & moment coefficients about arbitrary locations on and off the bodies.
Computation of lift, drag & moment coefficient for each shape.
Workflow: Setup Stallion 3D in less than 1 minute.
Workflow/results: Setup & analyze a "rocket"
Transonic Tapered Wing Analysis, v =270 m/s, Angle of attack = 5 deg.
Onera M6 Wing Results"
Analyze a pickup truck. Add a wing.
Analyze a race car
| | | | |
| --- | --- | --- | --- |
| License | Price | Purchase | Delivery |
| One Year Lease | $1,895 US | | Download |
| Perpetual License | $3,495 | | Download |
Support & Service include help with geometry setup and aerodynamics solutions for the duration of the lease. Stallion 3D requires Windows XP, Vista, 7 or 8.