Overview
Stallion 3D is an All-In-One aerodynamics analysis software that performs computational fluid dynamics (CFD) analysis on 3D solid models. The workflow follows these four easy steps:
1. Input your design (eg. CAD Model of your UAV)
2. Size the Simulation (Quick to Detailed)
3. Set Flow Conditions
4. Get the Results (Lift, Drag and Aerodynamic Moments).
Examples
UAV Analysis
Need to analyze your new UAV design? This example shows how easy it is to compute the aerodynamics parameters of your UAV concepts. Just enter the 3D file on your PC to obtain lift, drag and moments.
Read Article. Watch video.
---
DLR F4 Wing-Body
Stallion 3D is the most efficient & accurate method for aerodynamics conceptual analysis on your MS Windows PC. Read about the results for the F4 wing body based on the 1st AIAA drag prediction workshop.
Read Article.
---
Tractor Analysis
Stallion 3D requires no special treatment to analyze a tractor in ground effect. It can be used to analyze a myriad of ground vehicles to determine downforce in close proximity to the groud.
Watch video.
---
Onera M6 Wing Analysis
Stallion 3D receives excellent results for the inviscid analysis of the Onera M6 wing. The article shows comparisons made with experiments for two grid settings.
Read Article.
---
Analyze Thin Surfaces
Stallion 3D can analyze thin surfaces and other geometry features that might be difficult for other CFD software. This video show the results from a R/C car case analysis for aerodynamics efficiency.
Watch video.
No Expensive/Difficult Hardware Required
Stallion 3D runs on an ordinary desktop or laptop PC under Windows XP, 7, or 8/8.1 OS. Implementing a full-blow 3D CFD code on a PC eliminates the CPU cost of other options.
Easy Workflow
Stallion 3D features Fast Case Setup (Less than One Minute).
Step 1: Import the CAD geometry in .stl format
In this step, you can rotate or scale the geometry to match your inputs.
Step 2: Size the Simulation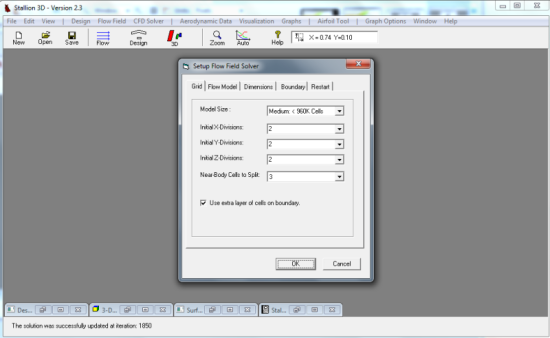 Step 3: Enter the flow speed and angle of attack.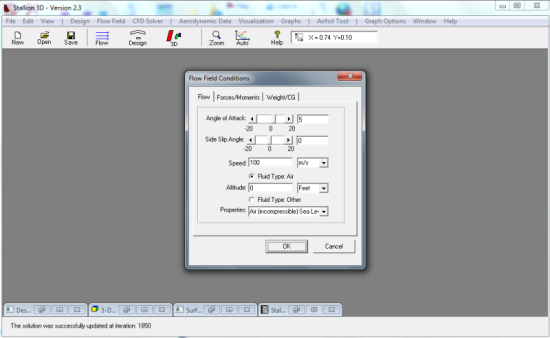 One Click Grid Generation and CFD Solution: Click the menu to generate the grid and solve the flow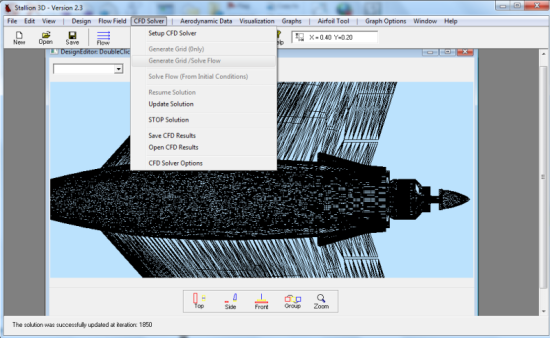 Step 4: View the results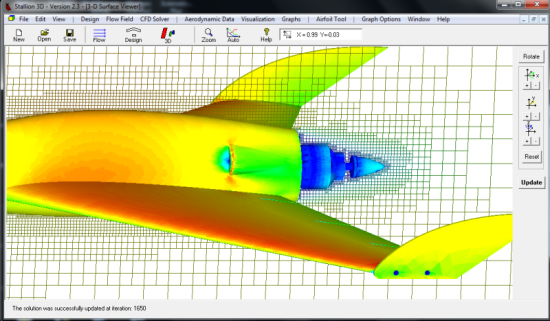 Flow Solvers
Stallion 3D solves the 3-D Euler or Navier-Stokes equations using an automatically generated cartesian grid. The grid detects the immersed boundaries and provides accurate solution without user intervention.
Features of Stallion 3D include:
3-dimensional compressible Euler & Navier-Stokes equations using a finite-volume solver
1st and 2nd order flux vector splitting
4-stage Runge-Kutta time marching scheme using local time steps
Automatic cartesian grid generation for arbitrary multiple body placement.
Low and high speed solutions
Plots of pressure, Mach number, temperature & total pressure
Surface plots of Cp, Mach number, velocity ratio & temperature
Computation of overall lift, drag & moment coefficients about arbitrary locations on and off the bodies.
Computation of lift, drag & moment coefficient for each shape.
Videos
Stallion 3D workflow. Setup your analysis in seconds. No grid generation to worry about.
This video shows how to modify a design in OpenVSP and then analyze it in Stallion 3D.
Transonic Tapered Wing Analysis, v =270 m/s, Angle of attack = 5 deg.
Validation
Validation for the Onera M6 wing test case is performed using the Euler equations solver. Stallion 3D solves the problem with a coarse grid (440,000 cells) and a fine grid (1.6 million cells). This classic validation case is run at a Mach number of 0.84 and an angle of attack of 3.06 degrees.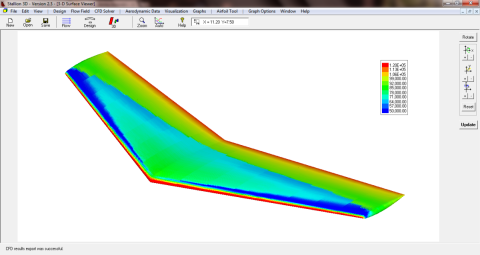 Pressure on the surface of the wing.

Cp at 20% span.

Cp at 44% span.

Cp at 65% span.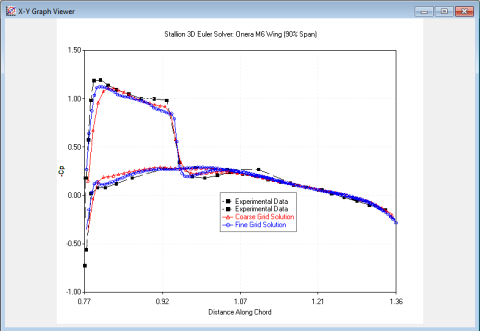 Cp at 90% span.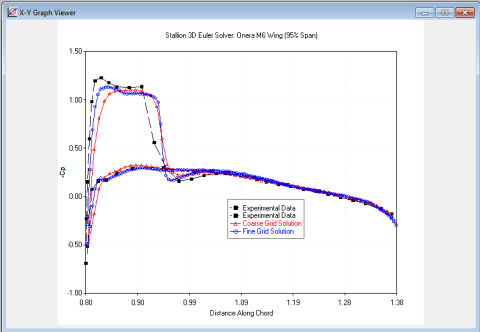 Cp at 95% span.

The validations were performed with Stallion 3D running on Windows 7 (64 bit) laptop.
Purchase
Purchase - Software, Support & Service
| | | | |
| --- | --- | --- | --- |
| License | Price | Purchase | Delivery |
| One Year Lease (Single Seat) | $24,000 US | | Download |
Support & Service include help with geometry setup and aerodynamics solutions for the duration of the lease. Stallion 3D requires Windows XP, Vista, 7, 8 or 8.1.