Summary
MultiSurface Aerodynamics-3DFoil is a fast and effective tool that can be used to solve many problems in the conceptual and preliminary design & analysis of airplane, sailboat keels and rudders and hydrofoils.

Analysis of upwind sail using 3DFoil.
The software is a 8-surfaces (new number of surfaces) version of MultiSurface Aerodynamics without the body of revolution, and is an extremely powerful software package for 3-dimensional wing design and analysis.

Conceptual design and analysis of small UAV.
3DFoil can accurately compute lift, drag and moment coefficients for airfoil sections, 3-D wings, tailplanes, canards, keels and hydrofoils.

Analysis and design of a blended wing-body airplane.
3DFoil computes the angle of trim and performs static stability analysis. It produces interactive graphs, tables and exports CAD files of wings and airfoil shapes.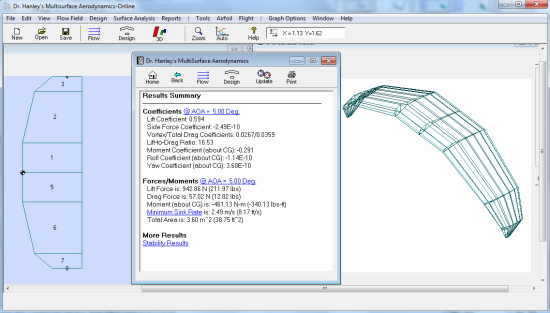 Analysis and design of a parasail using 3DFoil.
Features
Features of both 3DFoil & MultiSurface Aerodynamics are:
Airfoil analysis and design. Watch demo.
Analyse and design tapered wings. Watch demo.
Perform static stability analysis.
Compute roll, pitch & yaw moments due to roll rate.
Design & analyze keel & rudders. Watch demo. Read tutorial.
Triangular sail analysis and design. Watch demo.
Compare the performance of different keel designs. Watch demo.
3-DOF flight analysis.Watch demo.
It's a snap to create & analyze wings in the new MSA 3.1. Watch demo.
Input CAD drawings of airfoil sections
Cavitation screening
3D output in the form of .stl files
Video of jib and mainsail analysis in 3DFoil
Note: 3DFoil does not contain the body of revolution anaysis tool found in the full version of MultiSurface Aerodynamics and it has Four (4) Eight (8) aerodynamic surfaces (the full version of MultiSurface Aerodynamics has 30 surfaces).
Screens
The following screens show how 3DFoil can be used to solve a variety of problems.

Sail design and analysis.

Airplane stability and trim prediction.

Airfoil and 3D wing analysis.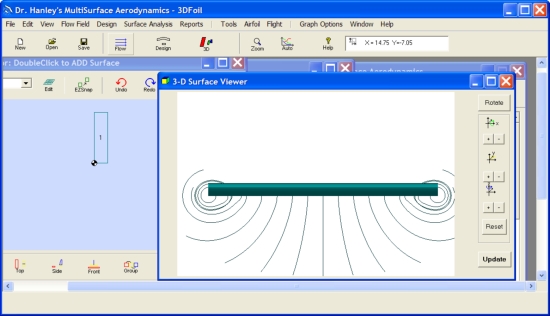 Support of classroom instructions.
Purchase
The price for a single perpetual license of 3DFoil is $395 for the 8-surfaces version. Please click the link below to purchase the software.

Analysis and design of a circular wing using 3DFoil.
System Requirements
3DFoil requires a PC running under the Windows operating system. The preferred versions includes XP, Vista , version 7 or 8 (32 or 64 bit versions).