MultiSurface Aerodynamics and 3DFoil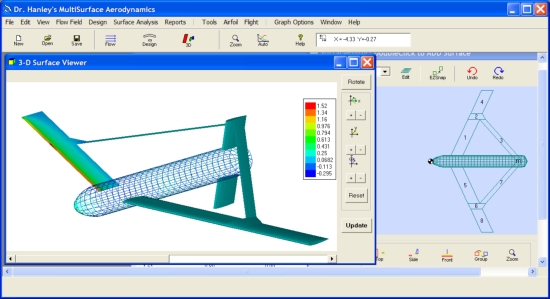 MultiSurface Aerodynamics easily models complex wing geometries using multiple tapered surfaces (up to 30). The software computes the resulting Cl, Cd, Cm, the lift distribution, induced angle of attack distribution, the neutral point, angle of trim, Cl-alpha and Cm-alpha. MultiSurface Aerodynamics includes a body of revolution to simulate an airplane fuselage, a bulb for a keel and other applications.
MultiSurface Aerodynamics is used by engineers, designers and students as an interactive tool to design and immediately analyze aircraft wings, aircraft wing and body combinations, sailboat keels, bulbs & rudders, race car spoilers, hydrofoils and other aerodynamics concepts directly on their personal computer.
The software computes longitudinal and lateral static stability derivatives and other parameters necessary for efficient flight. It includes a built-in stand-alone airfoil analysis tool that computes Cl, Cd & Cm for general airfoil shapes.