Software
Airfoil Analysis
3D Wing Analysis
Euler/Navier-Stokes
Education/Combo
Follow Us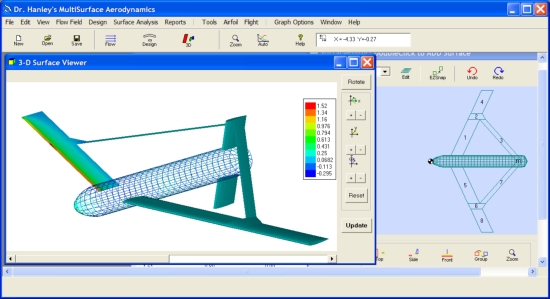 Overview
MultiSurface Aerodynamics can easy model complex wing geometries and compute the resulting Cl, Cd, Cm, the lift distribution, induced angle of attack distribution, the neutral point, angle of trim, Cl-alpha and Cm-alpha. The software also model a body of revolution to simulate an airple fluselage, a bulb for a keel and other applications.
MultiSurface Aerodynamics is used by engineers, designers and students as an interactive tool to design and immediately analyze aircraft wings, aircraft wing and body combinations, sailboat keels, bulbs & rudders, race car spoilers, hydrofoils and other aerodynamics concepts directly on their personal computer.
The software can determine longitudinal static stability and other parameters necessary for efficient flight. It also includes a built-in stand-alone airfoil analysis tool that computes Cl, Cd & Cm for general airfoil shapes.
MultiSurface Aerodynamics was developed by Patrick Hanley, Ph.D. for accuracy, efficiency and ease of use.
Analysis Method
Accurate Computational Fluid Dynamics (CFD) Solvers
MultiSurface Aerodynamics uses a vortex-lattice method (based on vortex rings) to provide an ideal trade-off between accuracy and speed for 3D analysis; a linear strength vortex panel methods for airfoil analysis; a novel solution of the ordinary differential equation form of the boundary layer equation for computing profile drag.
Features
MultiSurface Aerodynamics is an interactive software package that can be used to:
Design & analyze airplanes, 3D wings, winglets, keels, rudders and hydrofoils with the interactive geometry creation engine. Wing design is turn-key and fast using the airfoil library featuring 1000s of airfoils (including NACA 4, 5 & 6 digit airfoils, your custom designs, modification tools and the UIUC airfoil database).
Analyze any wing shape or wing combination including wings with sweep, twist, dihedral and winglets. MSA can determine drag reduction due to your unique winglets and airfoil cross sectional designs because it computes both profile and induced drag using a fast & accurate proprietary approach.
Compute and graph Cl, Cd and Cm vs. angle of attack sweeps for 3-D wing systems.
Compute and graph Cl vs. Cd sweeps for wing systems.
Compute and graph induced & effective angle of attack vs. span location for each aerodynamic surface.
Predict the locations of transition and separation points at any wing station for transitional boundary layers. MultiSurface Aerodynamics is ideal for designing aerodynamic surfaces (wings) for sailplanes, gliders, long endurance flight vehicles and high performance sailing yachts.
Determine the load (payload) capacity of your design. MSA computes lift, maximum lift (a unique feature), side-force, drag (vortex & profile) and moments computations for user-defined wing combinations in both air & water.
Compute the static stability derivatives to assess the behavior and performance of your design.
Compute the wing lift distribution and induced angle of attack distribution for your structural database.
Compute the flight trajectory of your aircraft in 3-dimensional space and time. Compute and graph x, y and z locations vs. time, x vs. y, z vs. y, location versus time, and 3-d plots.
Export 3-D wing shapes to .STL files for easy manufacturing.
Export/import 2-D airfoil shapes for analysis and manufacturing.
MultiSurface Aerodynamics also includes a built-in stand-alone airfoil analysis tool that computes Cl, Cd & Cm for general airfoil shapes.
Applications
Online Demos
Other Applications
Screen Shots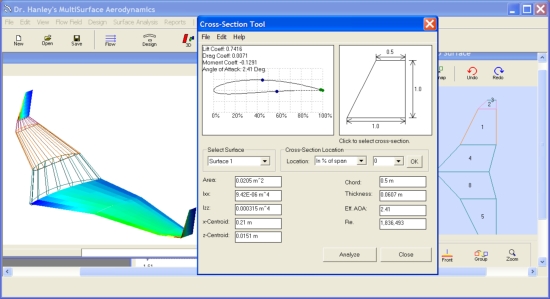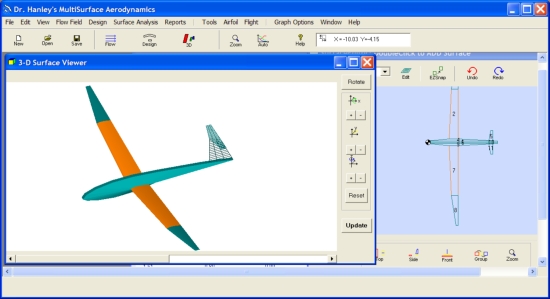 Purchase
3DFoil, a lite version with 8-surfaces and without the body of revolution.
Purchase
3DFoil, a lite version with 8-surfaces and without the body of revolution.
Computer Requirements
MultiSurface Aerodynamics requires a PC running Windows XP, Vista , version 7 or 8/8.1.
Related Software: 3DFoil, Aerodynamics Toolkit, MultiElement Airfoils, STALLION 3D. See catalog.
Software Author: Patrick E. Hanley, Ph.D. More information.
Contact Us
Find out how MultiSurface Aerodynamics can be used to quickly design products to your exact specifications. Please click here to send us information about your project and find out more information about Multisurface.
---
Copyright © Hanley Innovations 1996-2015