MultiSurface Aerodynamics
Aerodynamics Conceptual & Preliminary Analysis and Design.
Hanley Offers Perpetual Floating Licenses of MSA
OCALA, Florida, June 8, 2006 - Hanley Innovations, a leader in the development of software for aerodynamics conceptual design and analysis, announced the availability of perpetual floating licenses of MultiSurface Aerodynamics. MultiSurface Aerodynamics is a Windows based software package for rapid aerodynamics conceptual and preliminary analysis and design of wings and other lifting surfaces.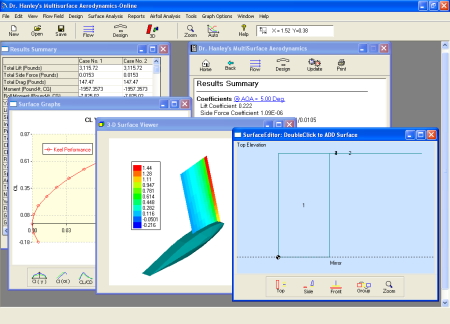 Analysis of Keel with Beavertail Bulb using the New Mirror Imaging Function
The floating license allows users to install MultiSurface Aerodynamics on all the PCs that they currently use (at home or work). Users can access the software with an individual password. The license requires an internet connection for authentication purposes. After login, users can sever the internet connection. No data other than the username and password is exchanged between the secure Hanley Innovations server and PC. The license is perpetual so the password should work forever. If the user needs to reinstall the software after a crash (for example), they can immediately load the software from their CD and access MultiSurface Aerodynamics. The current cost of the floating license $4,995.00 per user. Please click here for more information.
Current users of MultiSurface Aerodynamics can convert their current copy to the floating license. The cost is $495.00 US for both the Full version and MSA 8S. Please click here to upgrade your perpetual license to the floating license.
More information about MultiSurface Aerodynamics is available at the following URL: http://www.hanleyinnovations.com/multisurface.
About Hanley Innovations
Hanley Innovations is a leader in aerodynamics preliminary and conceptual design and analysis software for education and industry. Software titles include MultiSurface Aerodynamics, MultiElement Airfoils and VisualFoil Plus,
For more information, Hanley Innovations can be contacted at:
PO Box 831514
Ocala, FL 34483-1514
Telephone: (352) 687-4466
email: sales@hanleyinnovations.com
WWW: http://www.hanleyinnovations.com