MultiElement Airfoils: Airfoil Icing & Microtab Study
MultiElement Airfoils is an effecient tool for analyzing airfoil flows under conditions of special interest. MultiElement offers quick insight into these cases since grid generation is automatic and the solution is accurate under the assumptions of the compressible Euler equations. The following pictures feature airfoils subjected to microtab deployment and ice accumulation.

Cp for clean airfoil, microtab at t.e. and microtab at 5%c from te.

Pressure plot with the microtab at 5% c from t.e.

Streamlines for 5%c microtab

Streamlines for t.e. microtab.

Airfoil ice accretion model with grid layout.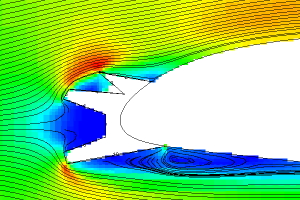 Streamlines about the ice accretion model.

Comparison of clean and iced airfoil
Please click here for more information about MultiElement Airfoils.
---
Home | About Us | Contact Us